Susan's China Experience
June 17 - 23, 2009
Yoga of Joy Workshop, Beijing
In keeping with the mission statement of The New Century Foundation to promote "total wellness for the 21st century by uniting the wisdom, knowledge and spirit of the East and West," Miao invited two of us Westerners who have studied with her for several years to accompany her to Beijing and assist her in a workshop she was teaching there. After the workshop, we traveled to Wu Tai Mountain where we visited the temples and immersed ourselves in the energy of this sacred place where Manjusri Bodhisattva once lived and taught.
I am a western-trained psychotherapist and over the past five years I have been learning from Yuan Miao, deeply devoting myself to her practices and trying to incorporate them into my work. In early 2007 I was diagnosed with Stage III Non- Hodgkins Lymphoma. I decided my best chance for recovery lay with utilizing the best of both Western and Eastern wisdom. I designed my own treatment regime, blending daily, intense practice of Miao's teachings with chemotherapy. Even as I was receiving the chemotherapy I actually practiced the mudras and listened to Miao's mantric singing on her CDs. Throughout this time I never missed The Blue Pearl Group she was teaching every other week. A few days after a particularly powerful healing ceremony with Yuan Miao, a PET scan revealed I am in Complete Remission.
I hope I was able to offer something useful from my background to the wonderful people I met in China, but of course, the reality is that I was much more a student than teacher. I received such an abundance of lessons on all levels that it is difficult to communicate all that I learned.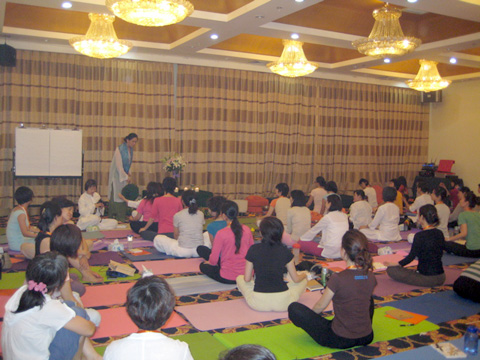 The actual workshop met for seven consecutive days for several hours each evening. There were profound teachings by Miao , practice of mudras, mantras, yantras and learning of Yoga of Joy. There were powerful healing ceremonies, and joyful singing.
But as I think back on the trip, I know that some of the deepest learning and healing for me came from being in the presence of the beautiful spirit and vibration of Miao and the Chinese people.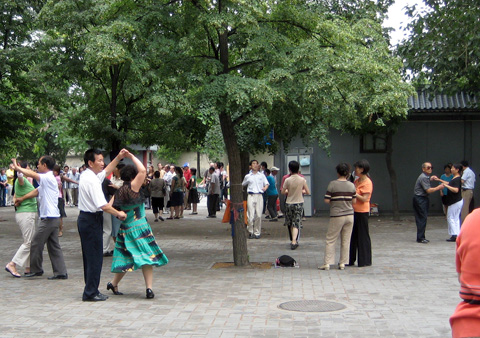 One day in Beijing Miao announced that we would be going "dancing" at the Temple of Heaven. She said our assignment was to look beyond the outer form and try to "see the people's inner nature." We arrived at a large open plaza surrounded by beautiful shady trees. It was mid week, but the plaza was filled with people, most of whom were dancing. Some were doing beautiful ballroom steps, others were improvising. Immediately they began to ask us to dance with them. I remember feeling like the actual air was sparkling, and shimmering with the joy and love of life they seemed to exude. The moments were timeless; everyone seemed to be totally in the present moment, connected to one another. I found myself elevated by my connection to these people. I was following their steps and dancing in a way my usual concepts would tell me I cannot do. I was joyous, I was grateful for all of life, I felt like I was in love.
Amazingly, this was not an unusual feeling during the three weeks we were in China.
I felt it when Wei Da (my fellow Westerner on this trip) encouraged me to accompany him to a spot near our hotel where local people in the neighborhood gathered in the morning. They had already enthusiastically included him in their ping pong line up and as soon as they realized I was interested in Tai Chi they had me practicing along with them. There was the same spirit of joy, harmony, and an in-the-moment connection to life and to each other.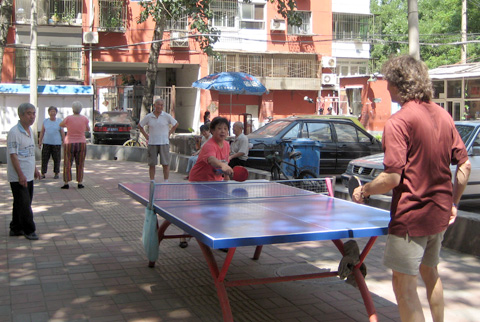 I felt it on Wu Tai Mountain when a nun who had not left her temple there for 27 years invited us into her small room, served us tea and talked with us about the importance of compassion, love and surrender. She radiated peace, complete presence and love.
Our days were filled with similar incidents.
In the Yoga of Joy meditation Miao says, "The mundane affairs of the world become farther and farther away, and the underlying reality begins to present itself to you." The Chinese people we met gave me a great teaching; looking for their inner nature helped me begin to really feel with my heart this underlying reality of love, compassion and joy.
-- Loving Tara